Kalindi's Royal Carrot Cake
Our specialty. Made with walnuts, carrots, and pineapple. Topped with traditional cream cheese icing.
Triple Chocolate Mousse Cake
Rich devil's food cake base, layered with creamy dark chocolate mousse, white chocolate mousse, and covered with ganache.
Flourless Chocolate Torte
Chocolate Spoon Cake
Two layers of rich chocolate cake filled with chocolate pudding, frosted with a decadent chocolate frosting, topped with ganache and chocolate shavings.
Triple Chocolate Devil's Food Cake
Four layers of intense chocolate cake with a chocolate ganache frosting.
German Chocolate
Our traditional dark chocolate cake with coconut, caramel, and pecans.
Black Forest Cherry Torte
Multiple layers of chocolate cake, frosted with whipped cream and covered with chocolate shavings.
Bumpy Cake
Two layers of devil/s food cake with buttercream filling finished with a chocolate ganache.
Cassata Cake
French vanilla cake, layered with ricotta cannoli filling and chocolate chips. Finished with whipped cream, chocolate shavings, toasted almonds, and dark rum syrup.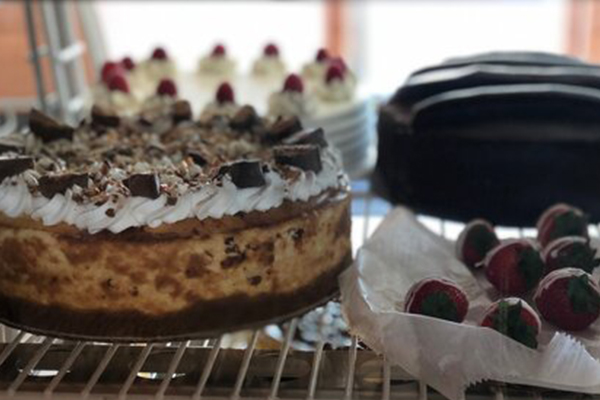 Pineapple Upside-Down Cake
Our delicious yellow cake with pineapple rings, Maraschino cherries, and a brown butter glaze.
Red Velvet Cake
A southern classic, our rich and sweet distinctive red cake, layered with velvety cream cheese frosting.
Boston Cream Pie
Our moist, yellow sponge cake with a rich custard filling, topped with chocolate ganache.
Tiramisu (13x9 in)
This Italian style dessert is created with ladyfingers, dipped in espresso coffee, layered with mascarpone cheese and fresh whipped cream, and is given a final dusting of Dutch cocoa for a sweet, gourmet offering.
Fresh Fruit Torte
Moist yellow cake, fresh fruit filling, Bavarian cream, sliced almonds.
Cheesecakes
9 inch, 10 inch, Full sheet, 1/2 sheet, 1/4 sheet cheesecakes available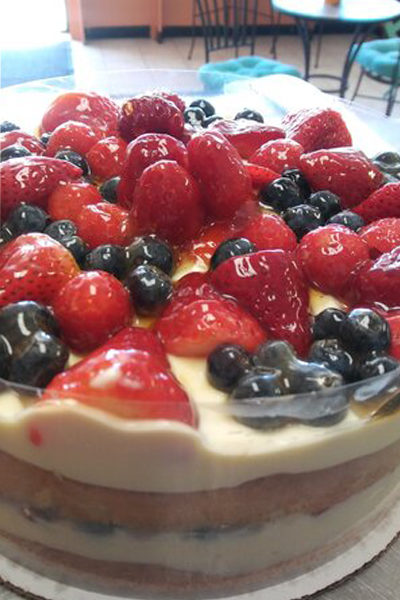 New York Cheesecake
The best around, taste the difference.
Turtle Cheesecake
New York-style cheesecake, Oreo crust, chocolate ganache, pecans, and caramel sauce.
Reese's Cheesecake
New York cheesecake with Reese's peanut buttercup pieces.
Oreo Cheesecake
New York-style cheesecake with Oreo crumbles and mini Oreos.
Bailey's Chocolate Chip Cheesecake
New York-style laced with Bailey's and chocolate chips.
Pie Flavors
Apple, Cherry, Banana Cream, Chocolate Cream, Key Lime and Lemon
Fresh Fruit Tart (Seasonal)
A sweet Pastry dough baked in a tart pan with custard filling, topped with an array of fresh, seasonal fruit.
Assorted Desserts
Great for company parties and family gatherings
Cannolis
Eclairs
Petit Fours
Assorted, Home-Style Cookies
Brownies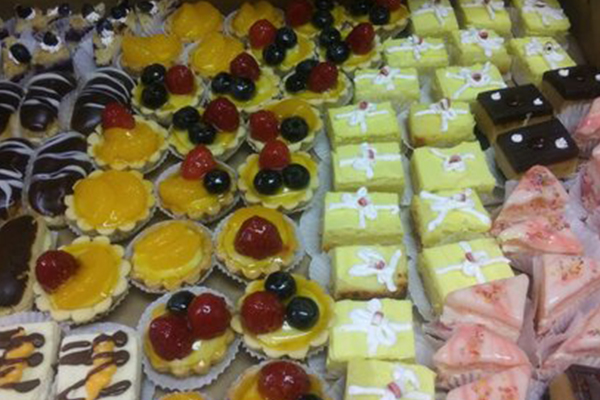 Chicken Pot Pie
Our house made pastry filled with creamy chicken gravy, simmered off the bone chicken meat, potatoes, peas, carrots, celery and onions.
Homestyle Soups (Pint)
  These change daily, call for availability.
Broccoli Cheddar * Chicken Lemon Rice * Chicken Florentine,
Redskin Potato Cheddar * Chicken Noodle * Chili
Beef Barley * Tomato Basil
Fresh Italian Bread
Baked fresh every morning
Our Bakery offers products with peanuts, tree nuts, soy, milk, eggs and wheat. While we take steps to minimize the risk of cross contamination, we cannot guarantee that any of our products are safe to consume for people with peanut, tree nut, soy, milk, coconut, egg or wheat allergies.
Hours
Tuesday – Saturday: 9am-6pm
Closed Sundays & Mondays