Weekly Meal Specials
Tuesday
1. Meatloaf with Mashed, Gravy, Fresh Vegetable
2. Roast Chicken Breast with Mashed, Gravy, Fresh Vegetable
Wednesday
1. Chicken Marsala
2. Beef Pot Pie
Thursday
1. Chicken Parmesan
2. Beef Pot Pie
Friday
1. Breaded Pork Chop, Mashed, Gravy, Fresh Vegetable
2. Pasta Donaldo
Saturday
1. Shepherd's Pie
2. Spaghetti & Meatballs
Follow Us On Social Media
CLICK THE PICTURE BELOW TO SEE MORE SPECIALS ON OUR FACEBOOK PAGE
Our Story
Kalindi's Cakes and Pies was originally started in 2003 by Chef and Baker Kalindi Engle.
Kalindi came to the United States in 1984 and, soon after, began cooking at Bobby Moore's Blindfish restaurant, where she found herself interested in baking. In her downtime at the restaurant she would pick up books about baking and taught herself the basics. Kalindi's passion for creating and baking grew through the years. Seeing the smiles on peoples faces as they eat and indulge in her desserts has and will always bring joy to her heart.
In 2003, Kalindi started up her own business, Kalindi's Cakes and Pies, and it was an immediate success – specializing in wholesale business to local restaurants. During the same time, Kalindi and her husband, Don, opened Engle's American Bistro in Sterling Heights, Michigan. As the new restaurant demanded all of her attention, Kalindi's Cakes and Pies was put on hold to accommodate the restaurant. Seventeen years later, Kalindi's Cakes and Pies now has a store front in Roseville, Michigan.
Specializing in Home Style Desserts that will take you back to what your grandma would make. With a from-scratch taste and exceptional presentation, Kalindi's Cakes and Pies is truly a treat – every time!

From Our Family To Yours – We Are Looking Forward To Serving You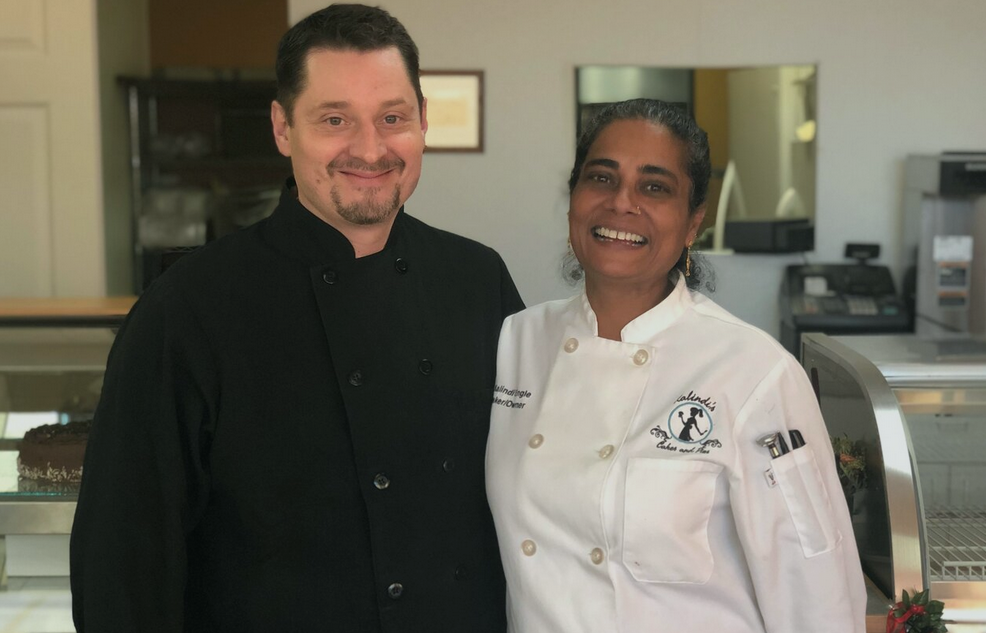 Kalindi and her husband, Don Engle, are the proud owners of Kalindi's Cakes and Pies.
We Bake Special Memories
We specialize in custom desserts and cakes for all occasions, including Birthdays, Graduations, and Weddings.
If we do not stock it, we can make it for you.
*Our Gluten-free products contain ALL Gluten Free ingredients. They are produced in a NON-GLUTEN-FREE kitchen. Although we make every effort to ensure there is no cross-contamination between Wheat flour and Gluten-free products, we cannot guarantee it; it is still in the air.
**If you have Celiac disease or are very allergic, we recommend that you avoid these Gluten-free products.
See What Our Guests Are Saying
Hours
Tuesday – Saturday: 9am-6pm
Closed Sundays & Mondays