Follow Us On Social Media
CLICK THE PICTURE BELOW TO SEE MORE SPECIALS ON OUR FACEBOOK PAGE
Our Story
Kalindi's Cakes and Pies was originally started in 2003 by Chef and Baker Kalindi Engle.
Kalindi came to the United States in 1984 and, soon after, began cooking at Bobby Moore's Blindfish restaurant, where she found herself interested in baking. In her downtime at the restaurant she would pick up books about baking and taught herself the basics. Kalindi's passion for creating and baking grew through the years. Seeing the smiles on peoples faces as they eat and indulge in her desserts has and will always bring joy to her heart.
In 2003, Kalindi started up her own business, Kalindi's Cakes and Pies, and it was an immediate success – specializing in wholesale business to local restaurants. During the same time, Kalindi and her husband, Don, opened Engle's American Bistro in Sterling Heights, Michigan. As the new restaurant demanded all of her attention, Kalindi's Cakes and Pies was put on hold to accommodate the restaurant. Seventeen years later, Kalindi's Cakes and Pies now has a store front in Roseville, Michigan.
Specializing in Home Style Desserts that will take you back to what your grandma would make. With a from-scratch taste and exceptional presentation, Kalindi's Cakes and Pies is truly a treat – every time!

From Our Family To Yours – We Are Looking Forward To Serving You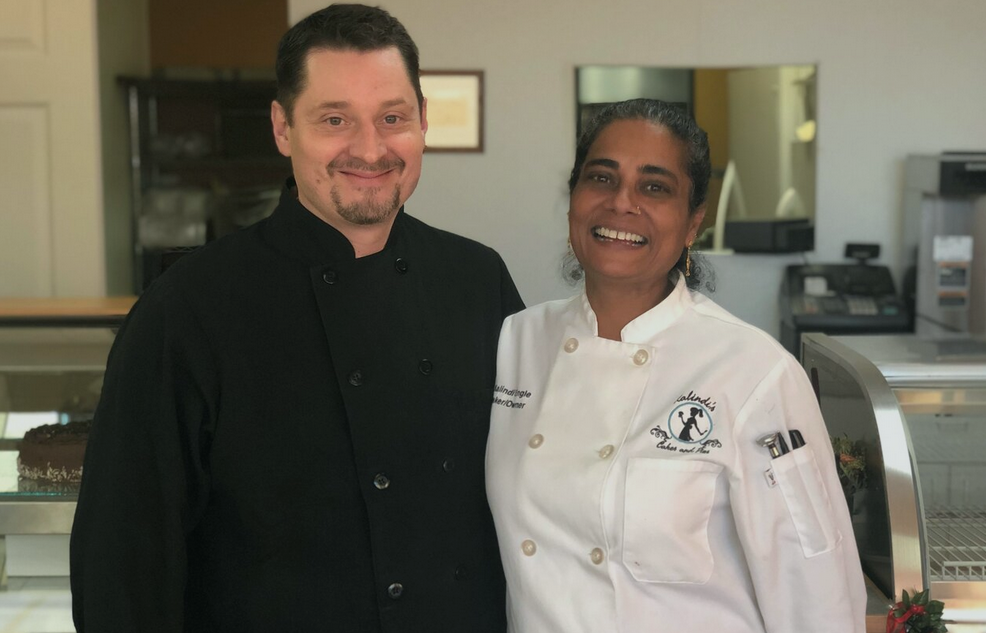 Kalindi and her husband, Don Engle, are the proud owners of Kalindi's Cakes and Pies.
See What Our Guests Are Saying
Caryn T.

Just wonderful! I live in Seattle and can't visit my 95 year-old grandpa who lives in Eastpointe. I have been looking for little ways to show him that I love him and am thinking of him, and I stumbled upon Kalindi's shop on DoorDash. Homemade cottage pie and cake! It was perfect. My grandpa was so happy to get his care package, made with love. He said the cottage pie was fantastic and hearty, incredibly filling, and that the carrot cake was scrumptious. It made his night, eating the food Kalindi made. Thank you, thank you for running a wonderful bakery and sharing your talent for cooking and baking with the world. I will be ordering from you again!

Liz S.

Please don't tell my mama, but I just had Cherry Pie for lunch. It was delicious! I dug into the "personal size" and found it full of fruit, not too sweet with a tender crust that is sturdy without falling apart off my fork. This cherry pie is baked in a smaller deep foil pan with a crumb topping. The filling was pure cherry making every bite full a delight. A small box of coconut macaroons got opened in the car. The cookie has a bit of chew and again, full of flavor and pair well with coffee. For tomorrow, I have pecan rolls. We'll see if they're as good as mine, but these are less than$2.00 each and for that bargain, I'm not bothering making anything else. The best asset of this little bakery is the wonderful couple putting their heart a souls into it! What a great addition to the neighbor and what a get treat for me! Thank you!

Janine H.

I was craving cake when I woke up this morning. Jumped on DoorDash to see what they had to offer and Kalindi's came up. They had interesting offerings. Decided on a piece of the Royal Carrot Cake, Lemon Torte Cake, beef barley soup and a bread. Everything was amazing!! The carrot cake is hands down the best I've had in a very long time. It's dark, super moist and not overly sweet, with a light cream cheese frosting. The lemon torte was equally delicious. Light, lemony and tangy! A perfect summer cake. Next time I will not hesitate to order a whole cake. The beef barley soup was fabulous. Obviously homemade. Lots of beef and perfectly seasoned. The individual round homemade bread was adorable, fresh and complimented the soup. Give Kalindi's a try. You will not be disappointed!

Grace M.

Some of the most decadent cheesecake I've EVER had
My husband loves cheesecake and I wanted to get him some for Fathers Day. I spent all morning searching bakeries around us that served cheesecakes, and their potential flavors. I came across Kalindi's and after reading all positive reviews, i figured I knew where to go!
Kalindi greeted me and got my order ready, and as a new customer, she gave me some chocolate chip cookies for free (they were yummy, of course)!
I got home and just had to try the slice of key lime cheesecake I picked up for myself - it's pure key lime heaven! I already want another one, only this time, I want the whole cake!
I will be returning for more goodies very soon!

Lauralyn C.

I absolutely LOVE Kalindi's, and Kalindi, and her husband!! This is your friendly corner family business, and they are such a joy to see every time I come in. Everything is made by hand with love from Kalindi herself, and she will bend over backwards for her customers. Don't pass this lil hidden gem up! It's in a strip mall, but it should be in a huge building of its own! Since coming here my first time, I now return every other day! It's THAT GOOD! Best wishes to this great company! I know you will flourish and prosper.
Hours
Tuesday – Saturday: 9am-6pm
Closed Sundays & Mondays